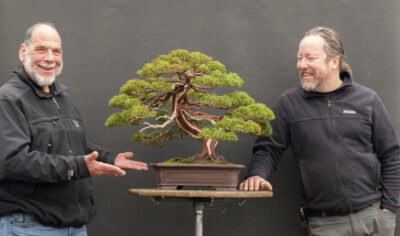 With strong foundational education from their first year, students may move on to Year 2 of the School of Bonsai. This curriculum features a more individualized approach as students begin to form their identity as a bonsai practitioner. Whether they prefer to focus on certain species like deciduous cold-hardy varieties, or develop expertise in deadwood carving or refinement wiring, students decide what type of material they will work on. Seminar classes will shift heavily to lecture, demonstration, discussion and group exercises.
In year two, students will need to acquire their own stock material, whether it be from their own collection, new purchases, or borrowed stock from Bonsai West's collection. Unlike year one, a tree is not included in the cost of the class.
The School meets once every month: 6 Saturday All-Day Classes/Seminars and 6 Wednesday Evening Guided Workshops.
---
Seminar/All-day Classes
The Seminar covers more challenging and abstract content . Throughout the year, each student will be dedicated to expanding on their own desired topics.
Workshop/Half-day Classes
The Workshop is an opportunity for students to work directly with Michael and Zuma. Bringing their own trees for study, students will document and develop their trees to elevate their personal bonsai collection.
---
Year II Schedule
2022-2023 season
Seminar I

March 26, 2022; 11a-5p
Seminar II
May 21, 2022; 11a-5p
Seminar III
July 23, 2022; 11a-5p
Seminar IV
September 24, 2022; 11a-5p
Seminar V
November 26, 2022; 11a-5p
Seminar VI
January 28, 2023; 11a-5p
Workshop I
April 20, 2022; 5p-8p
Workshop II
June 22, 2022; 5p-8p
Workshop III
August 24, 2022; 5p-8p
Workshop IV
October 26, 2022; 5p-8p
Workshop V
December 21, 2022; 5p-8p
Workshop VI
February 22, 2023; 5p-8p
Tuition
Total: $1495

First payment to reserve spot: $500

Second payment due July 15th: $500

Third payment due October 15th: $495
NOTE: Some workshop materials are included in school tuition, but students should expect some additional purchases throughout the year (e.g.: pots, special soil blends, etc.).
Payment is non-refundable.
How to Enroll
Those interested in enrolling in the School of Bonsai can reach out to us via email: info[at]bonsaiwest[dot]com or by calling us during our normal business hours at (978) 486-3556.