The School of Bonsai West
Taught by Michael Levin and Zuma Fleischmann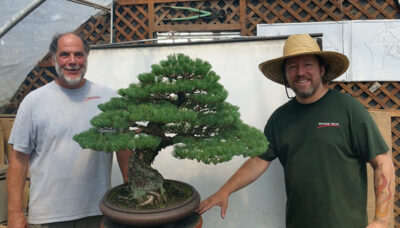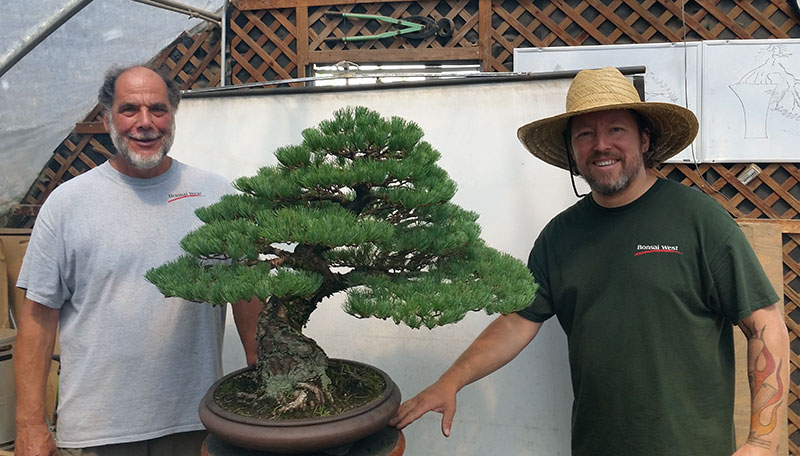 The School of Bonsai West is a specialized 12 month program dedicated to deepening the craft and art of bonsai. Using the Bonsai West Collection and students' trees, we will practice horticulture and design theory, cultivating a deep understanding of bonsai across many species. The School's curriculum is designed to be a year-long Masterclass. Emphasis is placed on gaining an understanding of every principle of growing excellence. During the first year students will complete the transformation of a specimen grade stock Shimpaku Juniper into a fine and unique bonsai.
The School includes access to the Bonsai West library; a monitored online forum for questions and discussions; and curated video lessons for special focus. The School meets once every month. 6 Saturday All-Day Classes/Seminars and 6 Wednesday Evening Guided Workshops.
Seminars/Classes
The Seminar covers changing seasonal care, potting, and planning for and implementing specialized design. Each student will be dedicated to creating their own specimen Shimpaku Juniper. Developing the Shimpaku will guide every aspect of bonsai care throughout the year.
Workshop
The Workshop is an opportunity for students to work directly with Michael and Zuma. Bringing their own trees for study, students will document and develop their trees to elevate their personal bonsai collection.
The Curriculum
Welcome
January 25, 10am-5pm
Overview of the 12-month program; Selection of the Shimpaku juniper
We will be discussing specialty tools, styles of bonsai, Shimpaku cultivation, and how to select stock with high potential for bonsai. Students will choose their own tree, and begin the careful examination and cleaning of their Shimpaku.
Horticultural study will include thorough explanation of best cold-weather practices and the differing needs of species.
Workshop
February 12, 5-8pm
Suggested materials: Cold-Hardy evergreen conifers or deciduous trees.
Finding the Line
March 14 10am-5pm
Using the Bonsai West Collection, we will be discussing the different species needs in Spring. We will examine soil compositions, repotting, pot selection, tie down techniques and fertilizers. On the Shimpaku, students will prepare the trunk and branches for heavy bending with the use of raffia and tape. Finding the line will define the movement and style of the tree.
Workshop
April 15, 5-8pm
Suggested materials: Temperate species including black pine, juniper, maples and Chinese elms
Bonsai in Spring
May 9, 10am-5pm
Students will study pruning techniques using various specimens for branch selection and elimination. Discussions will focus on both drastic and refinement pruning.
On the Shimpaku, students will use heavy gauge copper wire to introduce movement to the trunk and larger branches. Horticulture review will include seasonal techniques for different species including insect and fungus control.
Workshop
June 10, 5-8pm
Suggested materials: Temperate and tropical species including azalea, maple, ficus, elm, juniper and pine.
Bonsai in Summer
July 11, 10am-5pm
In the collection we will be examining tropical species and the specialized aspects of horticulture that these species require in the Summer. We will discuss creating specimen trees from Brazilian Rain Trees and Ficus varietals in particular, including air layering and other propagation techniques.
On the Shimpaku, students will wire secondary branches and stage them in positions which move towards the desired silhouette of the tree.
Workshop
August 12, 5-8pm
Suggested materials: Sub-tropical and Tropical species
Bonsai in Autumn
September 12, 10am-5pm
The Fall season is all about preparing bonsai for the Winter and the following Spring. We will discuss maintenance pruning, removing wire from trees, end of season growing tips, and looking ahead for the cold and dormancy.
On the Shimpaku, students will continue wiring into the tertiary branches, refining and finishing details of structure and balance. Horticulture review includes the fall growing season, soil and root growth.
Workshop
October 7, 5-8pm
Suggested materials: Deciduous species including redwoods
Bonsai in Winter
November 14, 10am-5pm
The final class of the School will discuss elements of jin and shari as features on the Shimpaku. Students will also choose the pot in which the tree will be repotted during the final workshop. A final review of the student's progress will provide feedback for their work moving forward. Horticulture discussion will cover best winter practices.
Workshop
December 9, 5-8pm
This workshop will be the final stage of the project with the Shimpaku, in which students will pot their tree. We will discuss exhibition practices, accent plants, and elements of display. Students are requested to bring 2 trees from their personal collection that they have worked on throughout the School.
Fee for the One-Year Course: $975.00
NOTE: Workshop materials are not included in the School fee. Payment for school may be made as follows:
$600 with registration
$375 with May class
School fee is non-refundable.