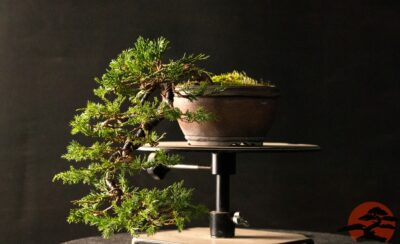 The School of Bonsai West is a specialized 12 month program dedicated to deepening the craft and art of bonsai. Using the Bonsai West Collection and students' trees, we will practice horticulture and design theory, cultivating a deep understanding of bonsai across many species. The School's curriculum is designed to be a multi-year Masterclass. Emphasis is placed on gaining an understanding of every principle of growing excellence.
During the first year students will complete the transformation of a specimen grade stock Shimpaku Juniper into a fine and unique bonsai. Enrollment also includes access to the Bonsai West library and other tools. 
The School meets once every month: 6 Saturday All-Day Classes/Seminars and 6 Wednesday Evening Guided Workshops.
---
Seminar/All-day Classes
The Seminar covers changing seasonal care, potting, and planning for and implementing specialized design. Each student will be dedicated to creating their own specimen Shimpaku Juniper. Developing the Shimpaku will guide every aspect of bonsai care throughout the year.
Workshop/Half-day Classes
The Workshop is an opportunity for students to work directly with Michael and Zuma. Bringing their own trees for study, students will document and develop their trees to elevate their personal bonsai collection.
---
Syllabus
2022 – 2023 season
Seminar I: Welcome/Overview
March 12, 2022; 11a-5p
To prepare for what will be the majority of the year's instruction, students will perform a complete defoliation and wiring of a midsize Ficus retusa pre-bonsai with aluminum wire.* We will discuss basic rules and mechanics, decision-making, and application of wire on branches. The objective for this class is to have students gain a tactile understanding of what to look for in stock material through a hands-on exercise. 
*The practice ficus is not included in the cost of the class, but students will have the option of purchasing the tree at a student discount rate if they feel so inclined.
Workshop I
April 13, 2022; 5p-8p
Suggested materials: Cold-Hardy evergreen conifers or deciduous trees.
Seminar II: Bonsai in Spring
May 14, 2022; 11a-5p
Using the Bonsai West Collection, we will be discussing the different species' needs in Spring. Students will examine soil compositions, proper repotting techniques, pot selection, and fertilizers. We will also discuss specialty tools and styles of Bonsai. Students will choose their own tree, and begin the careful examination and cleaning of their Shimpaku.
Students will learn about proper Shimpaku cultivation while preparing the trunk and branches for heavy bending with the use of raffia and tape. Finding the line will define the movement and style of the tree. 
Workshop II
June 8, 2022; 5p-8p
Suggested materials: Subtropical and Tropical species
Seminar III: Bonsai in Summer
July 9, 2022; 11a-5p
Students will study pruning techniques using various specimens for branch selection and elimination. Discussions will focus on both drastic and refinement pruning.
On the Shimpaku, students will use heavy gauge copper wire to introduce movement to the trunk and larger branches. Horticulture review will include seasonal techniques for different species including insect and fungus control.
Workshop III
August 10, 2022; 5p-8p
Suggested materials: Subtropical and Tropical species or anything from your collection
Seminar IV: Bonsai in Autumn
September 10, 2022; 11a-5p
The Fall season is all about preparing bonsai for the Winter and the following Spring. We will discuss maintenance pruning, removing wire from trees, end of season growing tips, and looking ahead for the cold and dormancy.
On the Shimpaku, students will wire secondary branches and stage them in positions which move towards the desired silhouette of the tree. Horticulture review includes the fall growing season, soil and root growth.
Workshop IV
October 12, 2022; 5p-8p
Suggested materials: Anything from your collection
Seminar V: Bonsai in Winter
November 12, 2022; 11a-5p
On the Shimpaku, students will continue wiring into the tertiary branches, refining and finishing details of structure and balance. Horticulture discussion will cover best winter practices.
Workshop V
December 14, 2022; 5p-8p
Suggested materials: Deciduous species including redwoods
Seminar VI: Finishing Touches
January 14, 2023; 11a-5p
The final full-day class of the School will discuss elements of "jin" and "shari" as features on the Shimpaku. Students will also choose the pot in which the tree will be transplanted during the final workshop. A final review of the student's progress will provide feedback for their work moving forward.
Final Workshop
February 15, 2023; 5p-8p
This workshop will be the final stage of the project with the Shimpaku (if needed), in which students will pot their tree. We will discuss exhibition practices, accent plants, and elements of display. Students are encouraged to bring 2 trees from their personal collection that they have worked on throughout the School.
Tuition
NOTE: Some workshop materials are included in school tuition, but students should expect some additional purchases throughout the year (e.g.: pots, special soil blends, etc.).
Payment is non-refundable.
How to Enroll
Those interested in enrolling in the School of Bonsai can reach out to us via email: info[at]bonsaiwest[dot]com or by calling us during our normal business hours at (978) 486-3556.