Date: July 19, 2019
Time: 5:00 pm - 8:30 pm

Date: July 20, 2019
Time: 10:00 am – 5:00 pm
Come join us for our Annual Summer Fest! All events throughout the weekend are free and open to the public! Enjoy Food, Demos, an Auction and 20% off Everything!
FRIDAY JULY 19th from 5pm – 8:30pm ~
We're kicking off the weekend in the Garden with a complimentary evening of BBQ, Cocktails and Music by The Rafters.
We've extended our hours till 8:30, and the Sale starts at 5pm.
We're cooking! Fabulous Brazilian BBQ cooked to order, wine and beer – all free for the party. But help us with planning:
if you're thinking of joining us for dinner, please click here to R.S.V.P.
---
SATURDAY JULY 20th Schedule:
11am ~ Demonstration with Michael Levin
Developing tropical/indoor bonsai.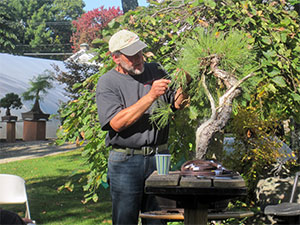 Michael always describes himself as a nurseryman, like the Japanese bonsai growers who call themselves farmers. Learn the art of growing healthy specimen tropical trees in New England. Michael will share tips and techniques for growing beautiful trees quickly.
12pm – 5pm ~ Demonstrations with Zuma Fleischmann
Stop by, pull up a chair and learn in this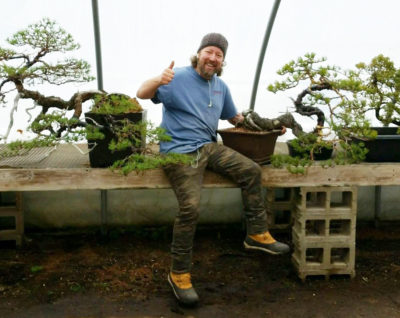 informal beautiful atmosphere. Demonstrations will be ongoing throughout the day.
1pm ~ Reiki demonstration with Denise Gilbert
Reiki practicioner and teacher Denise Gilbert presents a talk and demonstration of Reiki at Bonsai West. Learn what Reiki is, its many benefits, and how this gentle, holistic technique can be helpful to you and to others. Complementary Reiki sessions will be offered after the talk.
Denise is currently providing Reiki at Emerson Hospital in Concord, MA and has a private practice at Be Well and Beyond, Inc., an integrative health care center in Acton, MA.
---
SUNDAY JULY 21st Schedule:
11am ~ Taichi Demonstration with Jill Potsaid
Try introductory Tai Chi movements in Bonsai West's beautiful bonsai garden! Tai Chi is often described as meditation in motion, as the gentle flowing movements help release stress, foster tranquility, and promote peace of mind.  It is valued by many as a holistic mind-body practice used to quiet the mind and promote physical wellness.Tai Chi practitioners see benefits like improved balance, increased strength and flexibility, higher levels of energy, & stronger muscles, tendons and ligaments. Current practitioners and those new to Tai Chi are welcome to participate. The lesson will be followed by demonstrations of Tai Chi forms by instructors from the New England area Human Harmonies Tai Chi & Qigong schools.
12pm – 2pm ~ Bonsai Demonstrations w. Michael and Zuma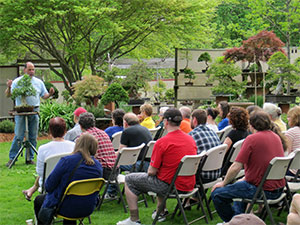 2pm ~ A U C T I ON !
Come check out what an auction at Bonsai West looks like!
We have a great selection of one-of-a-kind pots, specimen bonsai, classes, private lessons, out of print books, Indoor and Outdoor trees, and all kinds of goodies!
All items will be on display throughout the weekend.